AGR10 Gauge Pressure Sensor
APR5852 features a dedicated ASIC sensor chip, silicon microstructured pressure sensor and analog output output. APR5852 high performance pressure sensor can be directly mounted on standard PCB board, after amplification, high accuracy, calibrated pressure signal through analog output. Each sensor is rigorously calibrated and tested to ensure and meet customers' large-scale applications.
Description
1. Product Overview:
AGR10 gauge pressure sensor is suitable for biomedical, automotive electronics and other fields, the core is a piezoresistive pressure sensitive chip with MEMS technology processing. The chip consists of an elastic membrane and four varistors integrated on the membrane. AGR10 pressure sensor adopts the standard SOP6 form package, convenient for users to use surface mounting installation, it has good linearity, repeatability, stability and high sensitivity, convenient for users to debug and compensate for output and  temperature drift.
2. Application Scope:
♦ Medical application: Biomedical,electronic manometer, medical ventilator, oxygen generator, atomizer, monitor and etc.
♦ Industrial application: negative pressure measurement, pressure gauges,vacuum packaging machine, vacuum mixer, vacuum broken machine, vacuum container, vacuum pump, etc
♦ Fitness equipment: massager, air mattress, massage chair and etc.
♦ Home appliances: washing machine, beer machine, coffee machines, vacuum cleaners, water purification machines, water heaters and etc.
3. Product Feature:
Rapid response
Stable signal output
Excellent long-term stability
SOP6 packaging form
Flexible pin definition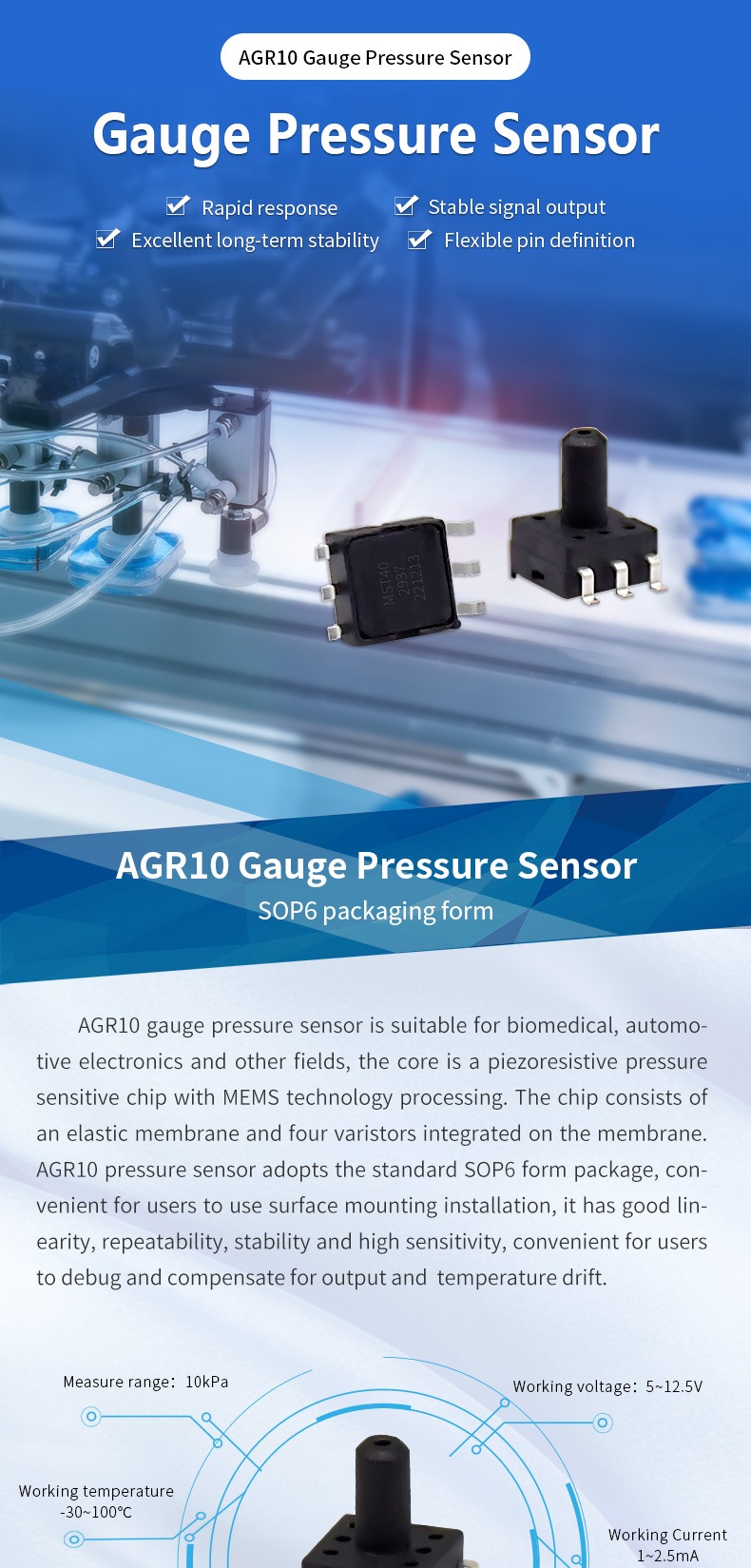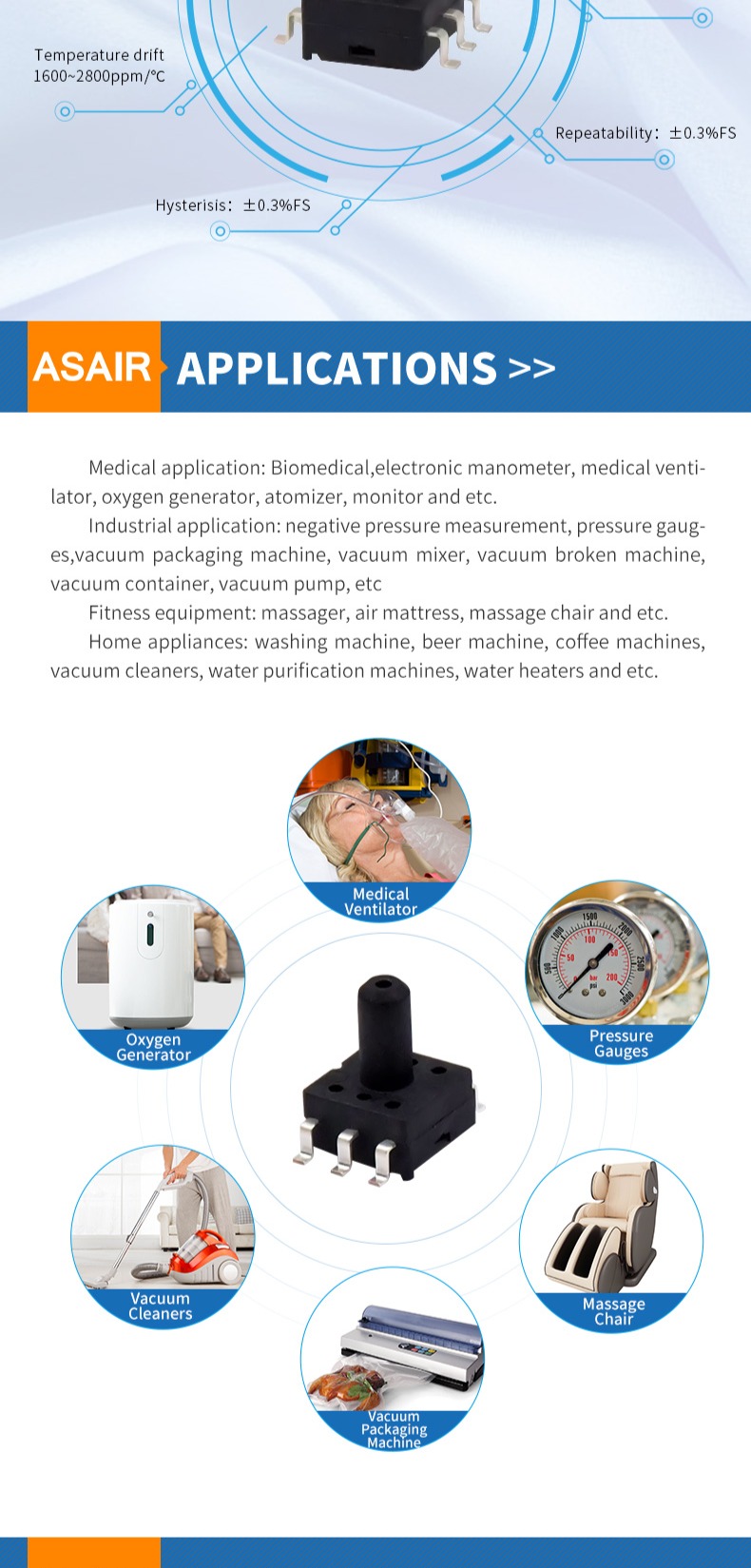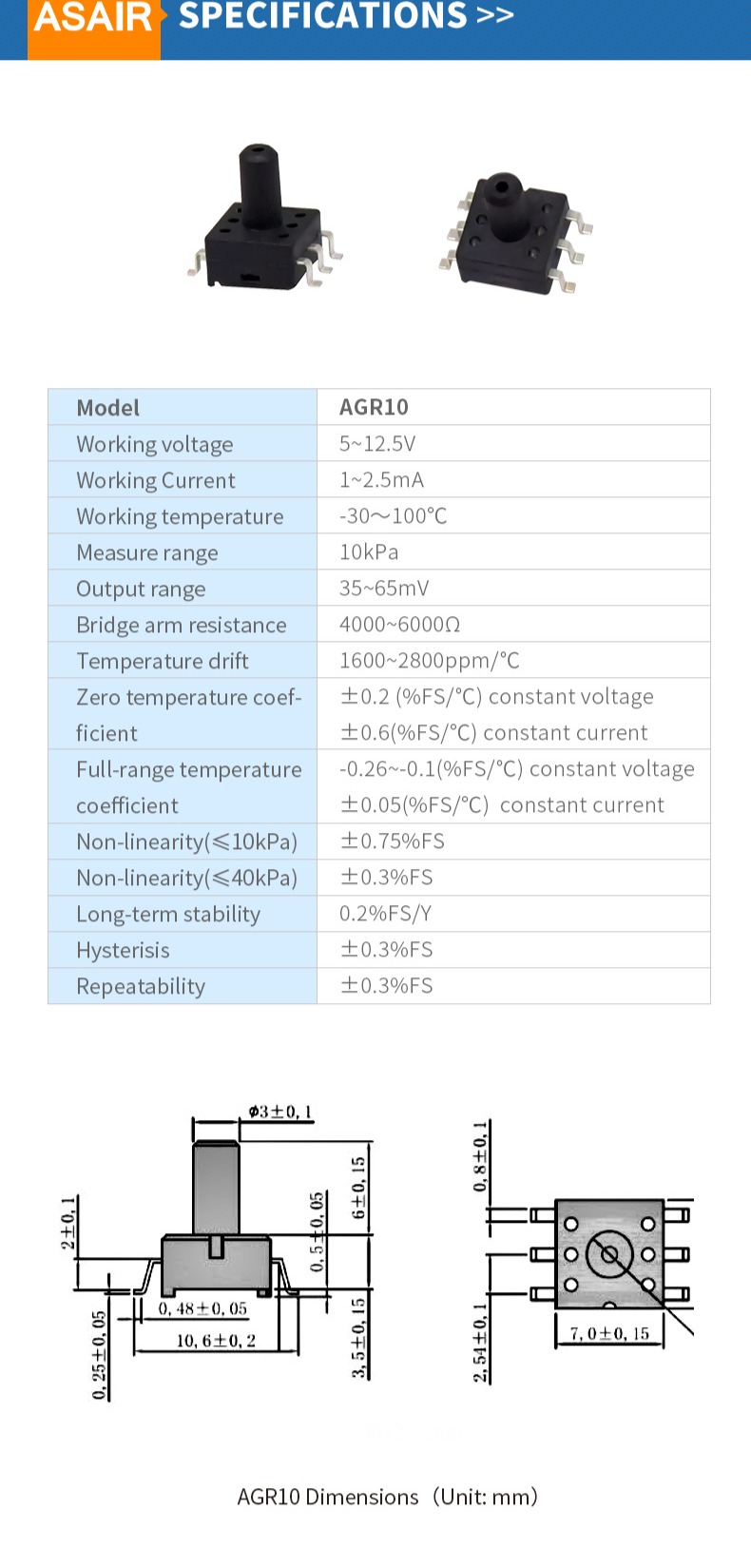 Additional information
| | |
| --- | --- |
| Working voltage | 5~12.5V |
| Working Current | 1~2.5mA |
| Working temperature | -30~100℃ |
| Measure range | 10kPa |
| Output range | 35~65mV |
| Bridge arm resistance | 4000~6000Ω |
| Temperature drift | 1600~2800ppm/℃ |