ADP2100 Differential pressure sensor
ADP2100 is a digital differential pressure sensor with an internal thermal sensor element which measures the gas differential pressure. The sensor can measure the differential pressure of air, nitrogen and oxygen with no drift and high precision. It measures differential pressure range from -500 to +500Pa, and also has excellent accuracy even at low differential pressures.
ADP2100 has digital 12C signal output, it can easilyconnect and communicate with a microprocessor.
Description
1. Product Overview:
The ADP2100 sensor is a digital differential pressure sensor in which an internal thermal sensor element measures the differential pressure of a gas. The sensor enables drift-free and extremely accurate differential pressure measurement of air and nitrogen and oxygen. Excellent accuracy also at low dropout pressure. It has good performance in terms of sensitivity, shock resistance and temperature change. The ADP2100 sensor has a standard I2C interface for simple communication and can be easily connected to a microprocessor.
2. Application Scope:
The ADP2100 is designed for high-precision measurement of differential pressure, with a fast response time of 10ms, and can respond quickly to air, nitrogen, and oxygen. It can adapt to HVAC applications with harsh environment and low cost requirements, such as: VAV controller, burner, heat recovery system and filter monitoring; it can also be customized and used in specific scenarios according to customer needs, such as: fire waste in smart fire protection Pressure monitoring system; pipe blockage monitoring and variable air volume control in electrical equipment such as heating air conditioning, fresh air system, building automation, precise control and monitoring of gas flow in the medical field, etc.
3. Product Feature:
Excellent repeatability, no drift
With temperature compensation
High reliability and long-term stability
High signal-to-noise ratio
Built-in MCU with high processing capability
Short response time and fast measurement speed
Small size and weight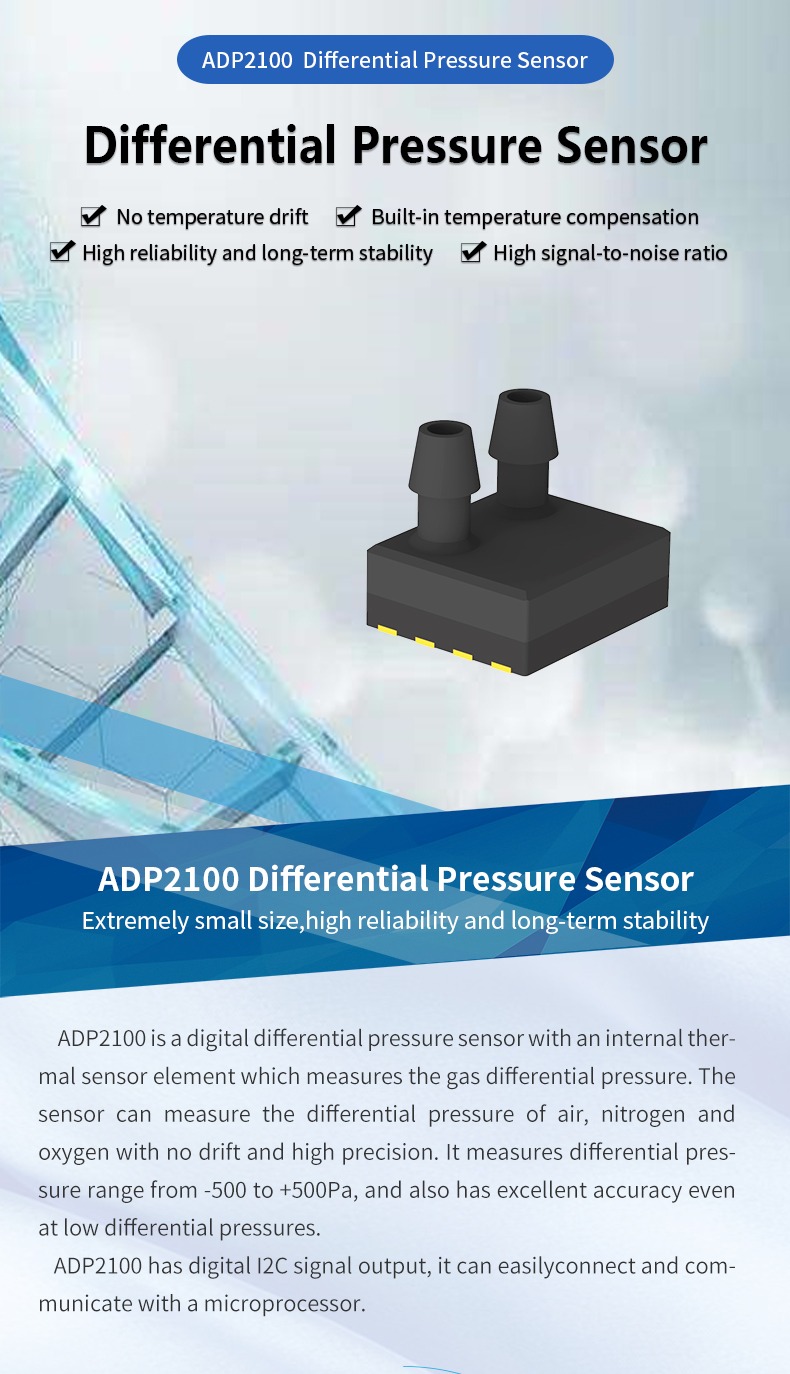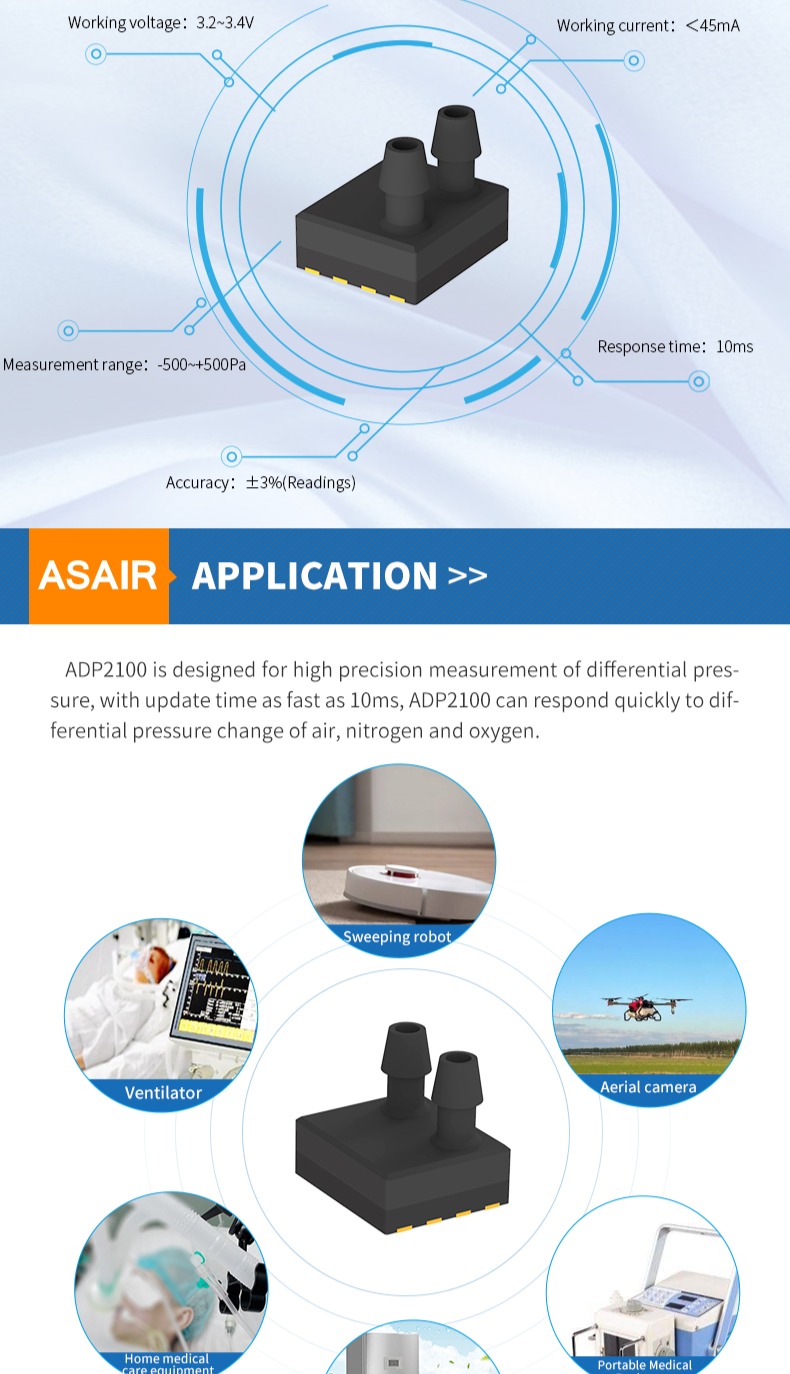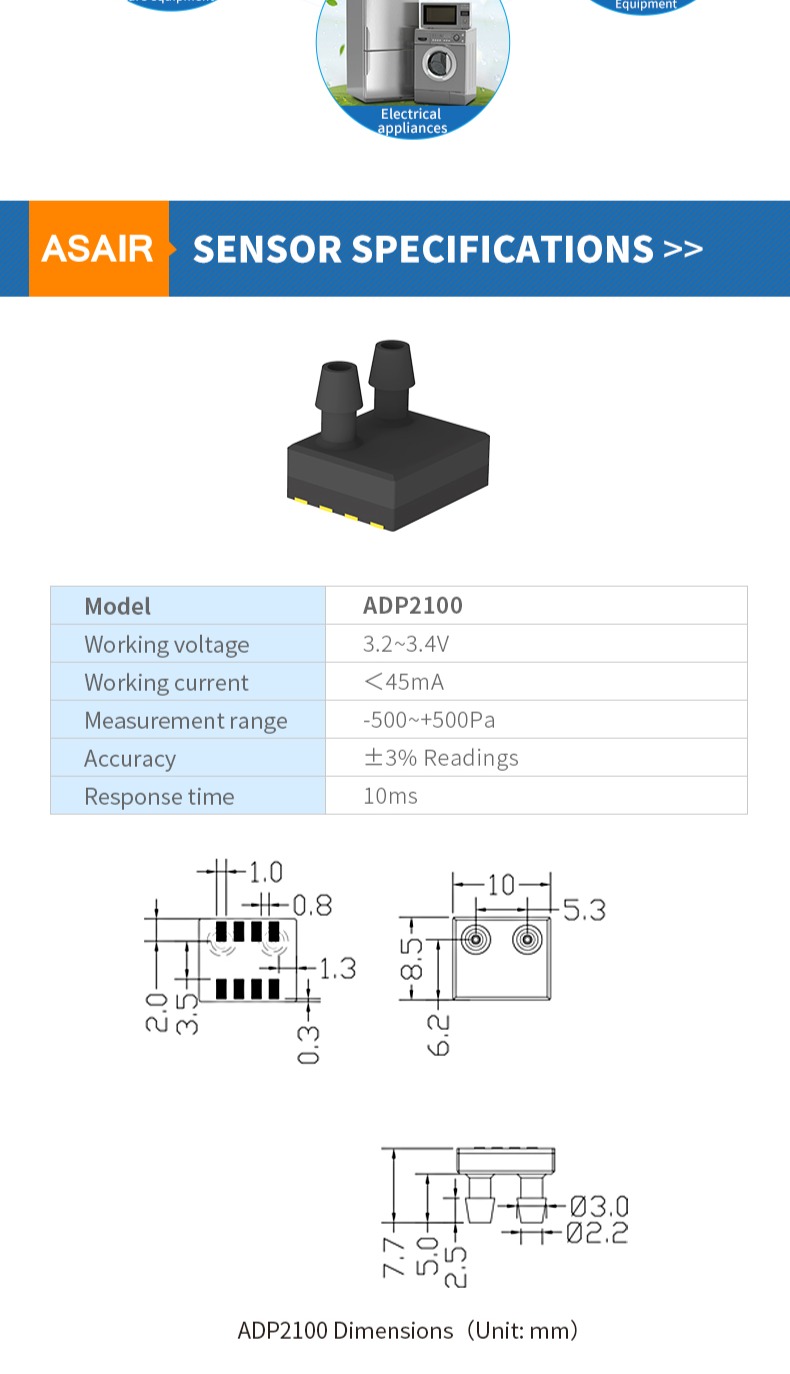 Additional information
| | |
| --- | --- |
| Optional measuring range | -500 – +500Pa; |
| Zero point accuracy | 0.3Pa |
| Measurement accuracy | 3% (read) |
| Interfaces | I²C |
| Supply voltage | 3.3V |
| Product size | 10.0×8.5×8.5mm |